God's Characteristics and Names
Daily Devotional Series
The One True God - His Characteristics and Names, is a daily devotional consisting of 33 days on getting to know and love the One true God by studying His Characteristics and Names. The devotional covers 24 characteristics and 12 names of God, and a few others with less detail; it uses many Bible passages to substantiate the informative and interesting commentary, and it uses a number of amusing and meaningful illustrations.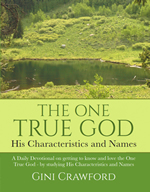 The book, The One True God - His Characteristics and Names, is available at Amazon and Walmart, and wholesale through Ingram Distributors.
Why buy the book version? The book version is set up differently so it can be done daily, weekly, or as a nine week group study. It has Bible passages that come alive with pictures and thought-provoking exhortations for each day. Many of the 33 days have footnotes. There is also a special review section. I have kept the price as inexpensive as possible at this point, so in reality it's less expensive than printing out the online verson.
Devotional Bible Lessons
In this devotion we discuss how important it is to think rightly of God, to know Who the real God is (His characteristics), and to not use our or someone else's imagination to make up a false image of Him. If you understand who God is, it will strengthen you - to love and trust Him. It will also give you joy, hope, and peace, as well as change our life for now and eternity.
In this devotion we will look at six Biblical principles on why God is good even when there is suffering. We will discuss what God being good means and that He is the source of all goodness, and apart from Him there is no good.
This important devotion explains Who Jesus Christ is from God's Word by looking at Jesus' characteristics. It discusses how vital it is we know who the Jesus is we are putting our faith in. This is because to be saved from our sins we need to believe in, the Jesus Christ of the Holy Bible, not some human author's invented or imagined Jesus. It explains specifically what Philippians 2:6-8 means especially what it meant for Jesus to become man but still be God. It talks at length about what it meant for Jesus to be born, live and die for us. It does this by comparing Jesus' life on this earth to Jesus' characteristics as God.
This devotion was written during the 2020 COVID-19 Coronavirus Pandemic. It describes Who God is by emphasizing God never changes even thorough the world is changing and is in crisis. It explains how God is good even if things aren't good. It answers the hard question of God being sovereign during the bad times, and how His sovereignty takes care of us through it all. It explains where God's loving care is in the Pandemic. It gives you practical spiritual advice through many Bible passages on how to deal with the Pandemic.
Short Devotions from Gini's Heart
In this short devotion, taken from the devotional series on God's characteristics - some insights are shared about God's sovereignty and mankind's free will.
In this short devotion, the One True God is described and you are encouraged to get to know, love and worship the Christian God, Who is like no other.
In this short devotion, from my personal struggles concerning the COVID-19 Coronavirus Pandemic of 2020 - the difficulties of hearing God - knowing where He is in the crisis are described and how to hear God when things are rough.
---