The Purpose of Because of God Ministries is to:
Educate, encourage and equip women, or any interested person, to know, love and enjoy God, each other and themselves.
...he asked, "Of all the commandments, which is the most important?" Jesus replied, "The most important commandment is this: 'Listen, O Israel! The Lord our God is the one and only Lord. And you must love the Lord your God with all your heart, all your soul, all your mind, and all your strength.' The second is equally important: 'Love your neighbor as yourself.' No other commandment is greater than these." Mark 12:28-31 (NLT)
My calling, we could say, is to help Christians (or any interested inquirers) to see for themselves what God's Word, the Bible, has to teach or say. This is the reason I started Because of God ministries; to use my teaching and shepherding gifts to educate and encourage people to learn God's Word by giving them free Bible based resources!
The only way a woman, or anyone for what matter, can be equipped spiritually is to have a true Biblical knowledge of God. (John 17:3) I have a friend who thought she was a Christian for many years. But she switched to another religion when that sounded better. When I talked to her, it became obvious she didn't know God through His Word. We need to not just know of God, but to really know Him through His Word!
This is what the Lord says: "Don't let the wise boast in their wisdom, or the powerful boast in their power, or the rich boast in their riches. But those who wish to boast should boast in this alone: that they truly know me and understand that I am the Lord who demonstrates unfailing love and who brings justice and righteousness to the earth, and that I delight in these things. I, the Lord, have spoken! Jeremiah 9:23-24 (NLT)
Many people are uncertain and insecure in their Christianity because they don't know the Bible for themselves; they only know what others have told them. This is why I emphasize in my studies and devotions, you must know God's Word for yourself and not just read or listen to someone else's view on God and His Word. In other words, don't think my words or anyone else's are anything but our own words. God's Word is His Word! If you want to truly know Him, the history of the world from beginning to eternity, His plan for your salvation and your heavenly inheritance, His love that surpasses human understanding, and many more true and life-changing things, you must study His Word. Makes sense, doesn't it?
All Scripture is inspired by God and is useful to teach us what is true and to make us realize what is wrong in our lives. It corrects us when we are wrong and teaches us to do what is right. God uses it to prepare and equip his people to do every good work. 2 Timothy 3:16-17 (NLT)
A few people have said they like my studies but that I keep reviewing and teaching the basics about Christianity. Why do this? I have to admit, I did not purposely start doing this. I believe the Holy Spirit has led me to! I am certainly not saying everything I write is Spirit led, but I constantly ask Him to speak to me, so I believe He does. I think we would all agree, we do need to be reminded about God's wondrous truths repeatedly.
When I first came to you, dear...sisters, I didn't use lofty words and impressive wisdom to tell you God's secret plan. For I decided that while I was with you I would forget everything except Jesus Christ, the one who was crucified. I came to you in weakness-timid and trembling. And my message and my preaching were very plain. Rather than using clever and persuasive speeches, I relied only on the power of the Holy Spirit. I did this so you would trust not in human wisdom but in the power of God. 1 Corinthians 2:1-5 (NLT)
Below is a women's fellowship in India that uses my studies and devotions. (Click here for more information.) They and others like them are my purpose in living color for doing this website. They are learning God's Word so they can know, love and enjoy God, each other and themselves. God bless my dear sisters in India!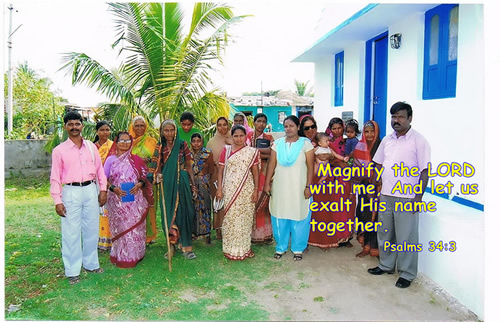 ---